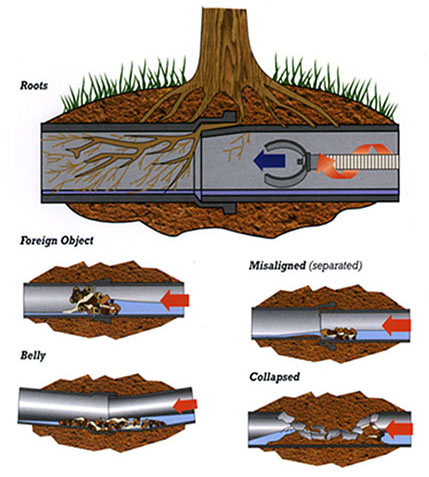 SEWERS
Sewer lines can be damaged or blocked because of a number of issues. Tree roots are the number one source for collapsed or clogged sanitary sewer lines.
Tree roots often seek out sewer lines because they provide warmth, food and nutrients, which leads to sewer damage.
Warm air circulates in your sewer line, causing condensation to form and escape into the soil. The condensation attracts tree roots which find their way into tiny cracks, loose joints, and other openings in the pipe. This provides a constant supply of water for the roots to grow, and eventually leads to a blockage or total collapse of the sewer line.
Sewer Line Cleaning Services You Can Trust
Sewer lines can be a big problem if they aren't cleaned regularly. When the pipes aren't flushed out regularly, they can become clogged, which can cause flooding in your home and other issues. At Miller Plumbing and Drainage, we offer professional sewer line cleaning services to keep your pipes clean and running smoothly.
Our technicians are trained to do this type of work and have the know-how to safely clear any blockages from your pipes. We will make sure that your plumbing system is working properly so that you don't have any problems in the future.
Our company has over 10+ years of experience  and has a great reputation for providing quality service at an affordable price. We want to help our customers with their plumbing needs because we know how stressful plumbing issues can be! Contact us today for more information about our sewer line cleaning services!