TOILETS, SINKS & TUBS
Miller Plumbing & Drainage knows that toilet repairs can't wait. We guarantee your mind will be at ease with our speedy and efficient repairs. We also know how to spot the tell-tale signs of bigger problems. For example: Your toilet:
Always Runs
Clogs Regularly
High Rising Water or Overflow
Lacks Flushing Power
Often requires Plunging
If you are experiencing any of these toilet issues or have concerns, Miller Plumbing & Drainage will easily diagnose any problem and repair it. A corroded flush valve or worn out fill valve is quickly replaced by your local expert plumbers at Miller Plumbing. In addition, our services will quickly pay for themselves in savings on your future water bills.
Maybe you're remodeling or are building a new construction project? Miller Plumbing & Drainage can help with a new toilet, sink or tub installation, as well as any plumbing repair.
A toilet that runs regularly and efficiently is a must in every home. We are happy to install many popular models. When you experience our old-fashioned quality custom service, you will remember Miller Plumbing & Drainage the next time you need a toilet, sink or tub repaired.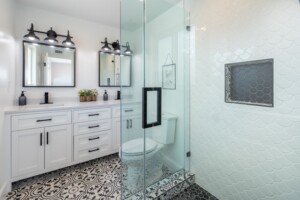 At Miller Plumbing and Drainage, we offer a professional service for all your plumbing needs. Our experts have the experience and guarantee that every part of your plumbing systems are in functioning order. We have been serving customers throughout the Lower Mainland in Vancouver, Burnaby and New Westminster for over 10 years.
If you are experiencing any problems with your toilet, sinks or tubs, contact us today.